Welcome to Goodwells Ltd
Welcome to the home page of Goodwells Ltd, the household name in quality construction projects throughout the Midlands. Our decades of experience within the construction industry have highlighted the frustrations and disappointments common within the domestic construction sector. Goodwells Ltd are changing the face of the home improvements market by setting standards others can only dream of.
Unlock the potential in your home, be it additional living space, an extra bedroom - your situation is unique, and we treat you that way.
Bringing light into your life without burning a hole in your pocket.
Too good for a car? Perfect for the home office, a playroom for the kids, a dining room - the possibilities are only limited by your imagination.
Another bedroom, a study, or to free up valuable space, the loft can be a refuge in the making.
The heart of the home, the hub of home life, one of the main rooms that sets the character of your home.
Breathe fresh life into your home with a quality bathroom make-over.
First impressions last, so why not bring your driveway up to the same standard as the rest of your beautiful home?
A major undertaking that requires as much dedication as imagination, but can totally transform a tired home.
Reinstate your property to its former glory, with patience and careful detail.
Whatever the reason, bespoke adaptations to cater for all needs in all circumstances.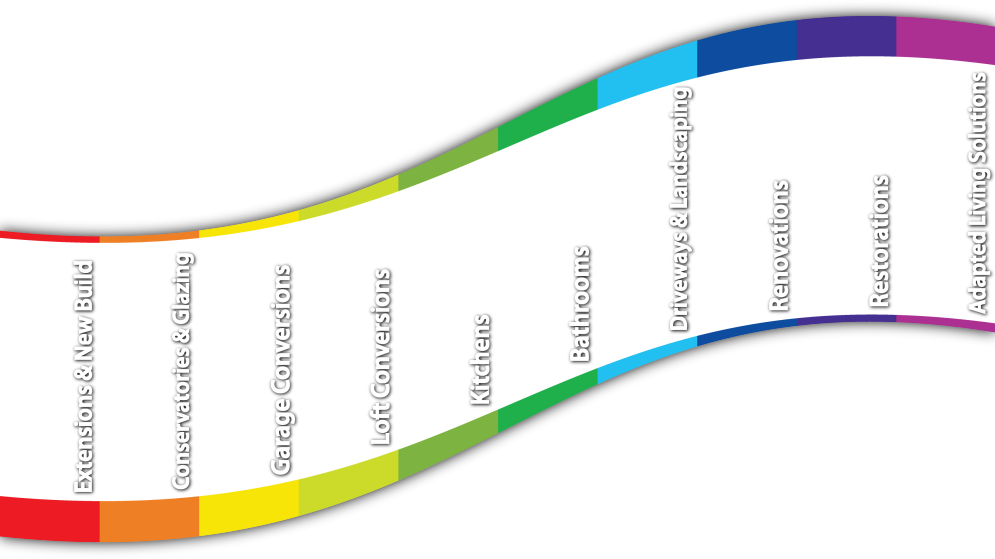 Testimonials
"
It's only fair that I write to thank you for all the consideration you've shown during the construction of my new Extension. I knew a project of this size wouldn't be problem free, and there were a few for sure. I have several friends who won't visit the Dentist due to bad experiences and in truth I was equally as nervous about 'having the builders in' for such a job. I only wish Goodwells were recommended to me years ago, as maybe I wouldn't have gone grey so soon. Thank you all for everything you've done for me. The Champagne & Flowers really brought a tear to my eye.
"
- Mrs D. McCallum, Bridgtown
"
I'm writing to say many thanks for the good job on my new Bathroom. It was a big job, and your team worked very hard and were most polite and clean. I had no mess to clean away when it was finished, and they did a really good job which I am most pleased with. So many thanks go to a good firm and it's workers. Thanks you once again for giving me a lovely Bathroom
"
- Mrs R. Boucher, Bartley Green
"
Dear Goodwells, We would like to express our thanks for all your help & assistance in planning and implementing our installation for Julie and of course ourselves. Your Workforce were brilliant, and very understanding to our needs. The workmanship was second to none. Once again thank you for a job well done.
"
- Mr & Mrs Cookham & Julie, Kings Heath
"
Owning a period property in a prestige location means you have to be certain your builder choice is both fully-informed & researched. Goodwells came out as clear winners with a highly competitive price, yet crucially the ability to fully understand the critical design elements of our project - as our clear aim was to fulfil our ambition to create an environment that reflects our personality. The results have met with great acclaim, Goodwells & our chosen Architects functioned cohesively, such welcome dialogue meant we kept control of our budget. Major projects like ours require specialism and excellent interpersonal skills. We're happy to recommend Goodwells as our chosen Partners in Construction.
"
- Professor I. Grosvenor, Edgbaston
"
I'm sending you this Card to say thank you for all the help and support with our new and unique adapted installation. Life is so much easier for my Husband now, once again thank you so much it is very much appreciated. Kind regards
"
- Mr & Mrs Coley, Oldbury
"
To all the team... I wanted to thank you all for the 'life changing' loft conversion. Everyone I encountered from beginning to end was friendly and professional I really felt 'safe' in your hands. It's nice to meet people who take pride in what they do - even so far as tidying up afterwards! We are all 'chuffed to bits' ,as you say, about having the extra space, Super Job, Well Done one and all!
"
- Dr & Mrs Akhtar (Snr), Saltley
"
I'd like to say just how pleased we are with our recently completed Garage Conversion Project. Our quality of life has improved tremendously, and we wish we'd done this before. Geoff is overjoyed with the finished job. My Sister-In-Law will gladly wait for the same team to do their new Driveway, and all we can say is thank you thank you and thank you again Goodwells. What a thoroughly great job you have done for us, we'll be sure to tell everyone we know about it too
"
- Mr & Mrs G Norton, Four Oaks

0121 344 3414
projects@goodwells.co.uk


Contact Us | Feedback | Site Terms & Conditions | Privacy Policy | Staff Access
© 2010 Goodwells Ltd.